Can't you keep my
hand
to yourself?!
Thursday, December 8
Johnny has found love...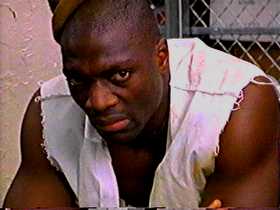 and his name is Simon, and he's a magical man, an AFRICAN man.
<< Home
Comments:
Congrats Johnny. I hear you're happy, and that's all that matters.
PS - I know you're not used to the...scale...of the physical demands this relationship is putting on your body...but don't worry, I hear the soreness goes away eventually.
it is the guy from Lost, but that isn't' where Johnny and Simon met, Johnny fell in love with the penis wagging anal rapist Simon Adebisi on OZ
Post a Comment
<< Home

A community blog, message board, think tank, toaster oven, and who knows what else...
Links
Tools
News/Opinion
Blogs
Previous posts
Taro
Japan's Secret Civil War & The Future of RPGs
Fuck you guys
Ideas, please
Ok
Hello all
yay
Not xmas colors...
Who knows
Where is this headed?
Archives
Miscellanea
Designed and tested using:

and Safari.

Unique visitors since 1.28.2006: